Welcome to "

The Fun Police

". This blog
and website grew out of the

OEHScience
academic blog I have been running for the
past four years.
The articles on here grow out of my daily
academic work in epidemiology, exposure
assessment and public health; just with a
bit of a spin. As such, you fill find this
website to be completely biased,
unrepresentative of any topic or academic
discipline, and basically just a reflection
of my interests.
I hope you enjoy it nonetheless, and I
welcome any feedback.....
Frank
Serving
the community
with a smile..........
................in a
Public Healthy
kind of way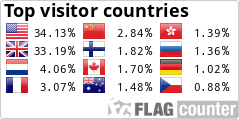 Book Review
The Mesmerist (6.5/10)
In the summer of 1837, a French visitor -
the self-styled Baron Jules Denis Dupotet -
arrived in London to promote an exotic
new idea: mesmerism.
May '18
Ah Man! Does
that cause cancer too?!
Last week a new study was published
describing the results of a survey of the English
general population asking them "What causes
cancer?". That's technically now what they
asked, but you get the idea. The study made
the national news, and may have reached an
international audience as well, and for
example was covered by the BBC as follows
suggests
"
June '18
Electrification and the
diseases of other causes...
In 2010 a new hypothesis was published that 'diseases of
civilisation', including cancers, cardiovascular disease
and diabetes, were caused by the electrification of
society. Recently, a new book was published that builds
on that hypothesis. Let's have a look at some of the data
used to build that hypothesis in a bit more detail, shall
we....